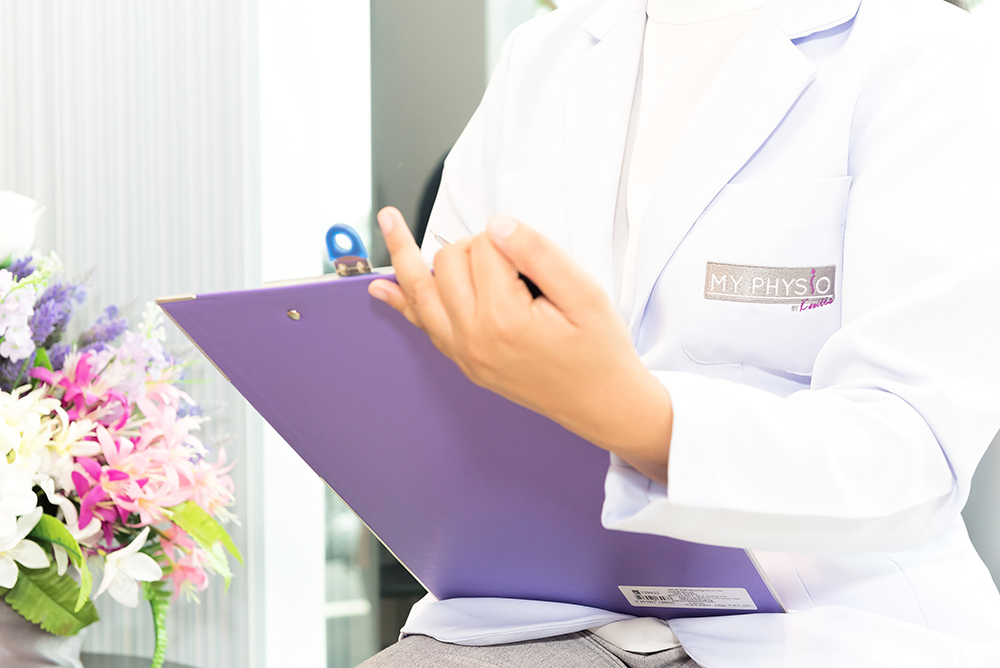 OUR CLINIC
Welcome to My Physio by Kanitta Clinic! We are a Physiotherapy and Sport injury clinic located in Boat Avenue, in front of Laguna, Cherng Talay, Phuket, Thailand.
We have over 14 years of international experience in successfully treating musculoskeletal conditions, sport injuries, pain management and rehabilitation program
Our experienced and professional team are here to meet your specific care needs.
Our services include : care for sports injuries; pain management services; rehabilitation therapy ; manual therapy; and physiotherapy.
Our Team includes physiotherapists and body structural consultants. We use state of the art equipment and programs , and customize care plans for each client.
THE TEAM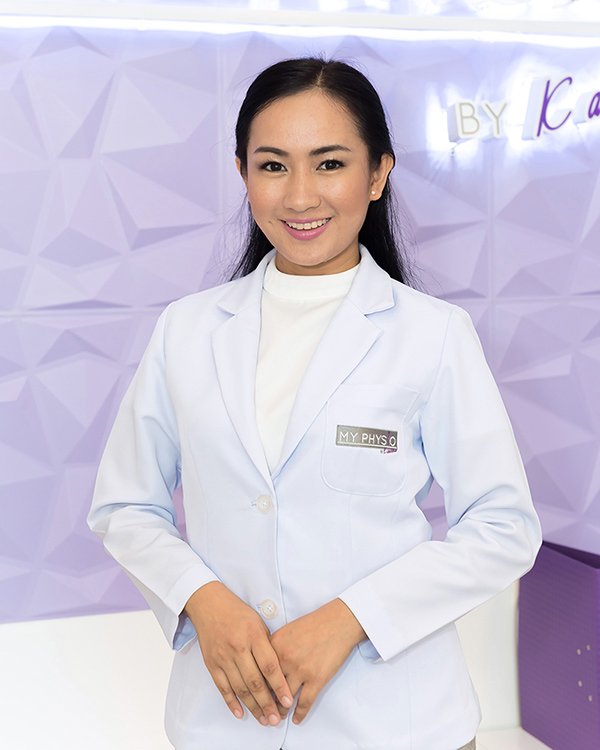 Kanitta Chatamma
Head clinic & owner of My Physio by Kaniita Clinic
Graduated from Mahidol University, Bangkok, Thailand with a Bachelor of Science in Physical Therapy. Past 14 years she has worked at 'Chiva-Som International Health Resort' in Huahin, Thailand as the Senior Physiotherapist Trainer and as Head Physiotherapist at Medident Madinat Qaboos Medical center in Muscat, Oman. Supervising Physiotherapy, Sport injury recovering, Rehabilitation Exercise and overseeing all physiotherapy classes.
Kanitta also holds a diploma in Acupuncture and Moxibusion from CBIATC, Beijing, China.
Certified in Water Rehabilitation exercise, Ai Chi, Feldenkrais Technique, Fascia movement Taping, Myofascial Release Technique, Mulligan Technique, K.O.R.E. Therapy and Himalayan Art of Sound Healing and Sound Therapy. Her training and experience includes Spinal foundation exercise, Pilates for back pain, H2O Therapy and Deep Tissue Massage.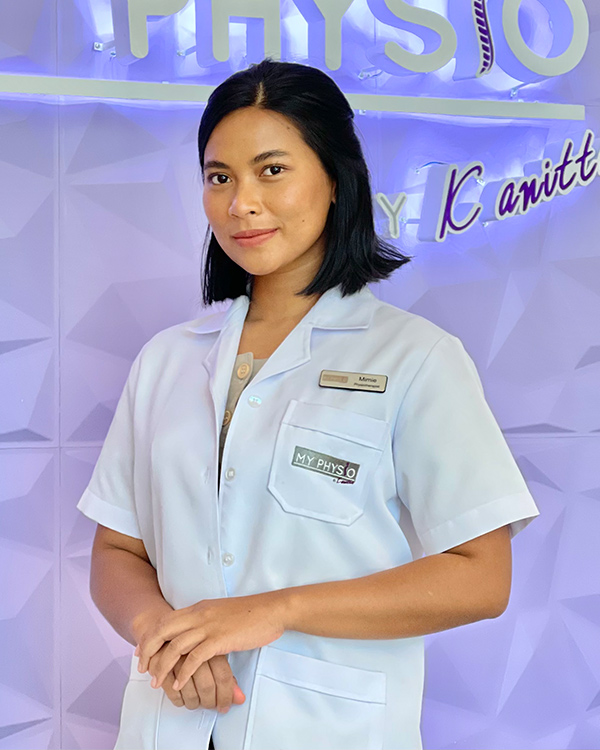 Nuramee Waekeji (Mimie)
Physiotherapist
Nurarmee Waekeji (Mimie) graduated from Rangsit University with a Bachelor of Science in Physiotherapy.
After finishing her studies she worked for 3 years in Bangkok as a physiotherapist. Where she primarily treated patients with office syndrome. Her responsibilities included rehabilitating patients, and educating them to avoid future injury.
At the same time she gained experience as a sport physiotherapist. Working with BEC tero football club, the boxers in the Max muaythai program and volunteering as a sports physio for football and drumstick competitions.
Mimie currently works at My physio by Kanitta Clinic. Where she is responsible for treating sports injuries, rehabilitating stroke patients, and rehabilitating people post operation.
She is passionate about sport rehabilitation, sport injury, musculoskeletal pain management and the use of physiotherapy in the treatment of mental health.
Mimie also holds a certifications in Muscle rehabilitation and Active in Body Conditioning, Exercise intervention for people with mild cognitive impairment and dementia, Physical therapy in mental health.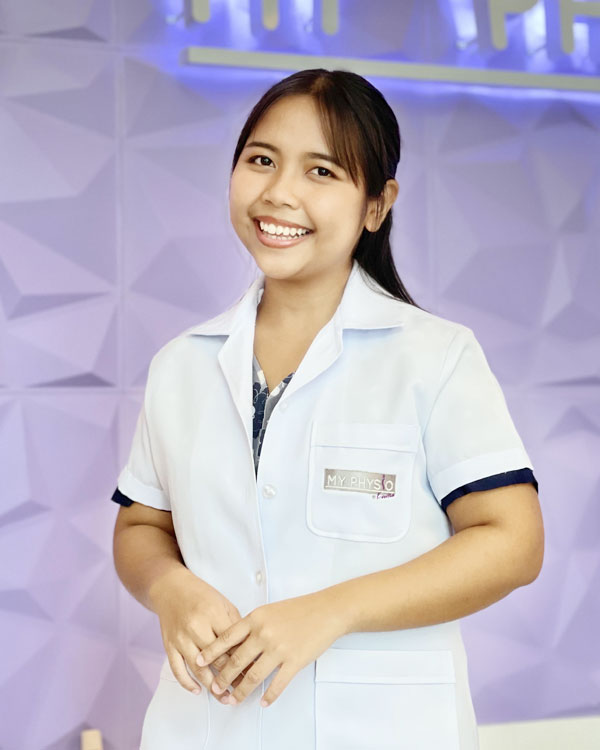 Subkamon Soonthonsawat (Benz)
Physiotherapist
Subkamon Soonthonsawat (Benz) graduated from Mahidol University with Bachelor of Science degree in Physiotherapy (First class honors) and Master of Science degree in Physiotherapy.
She had worked as a rehabilitation physiotherapist in the past few years. As her experiences, she is responsible for neurological patients, elders, athletes including musculoskeletal patients.
Her research is the investigation of high intensity LASER therapy. She has provided the scientific evidence support for the effectiveness of this technology.
Currently, Benz works at My Physio by Kanitta clinic. Where she can apply the knowledges for treating sport injuries, pain managements and exercise rehabilitation.
Moreover, She is also passionate about aerial art performance. She has practiced hammock yoga, pole sport and aerial hoop for a few years. She believes that "human is made to move". Thus, our services will provide you to move without any limitations.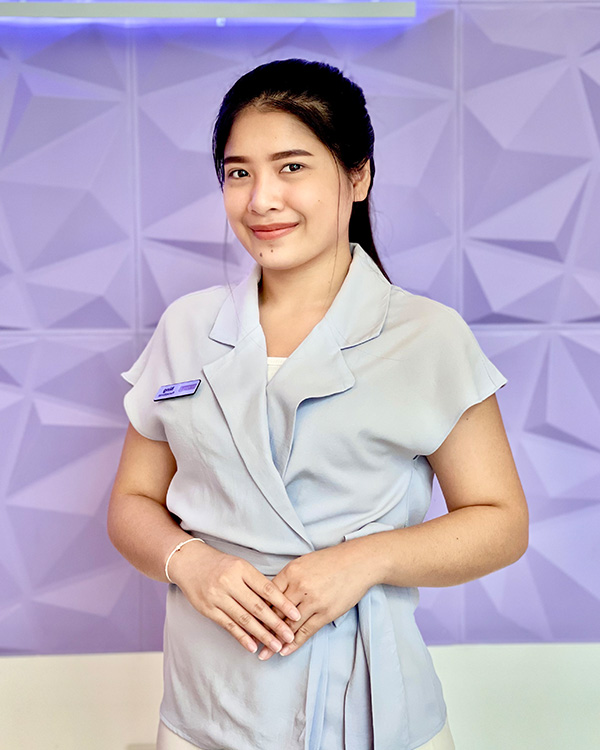 Pakawadee Niamtan (Ning)
Receptionist & Administrative assistant
Graduated from Rajamangala University of Technology Srivijaya with a Bachelor of Faculty of Liberal Arts in Hospitality. She has worked 1 years in Phuket, as a Receptionist, her a professional mannerism with a positive attitude, customer communication skill, A friendly and confident personality. She also had experienced as a hotel receptionist. She is passionate about taking care of customers. Meeting with customers and helping them.